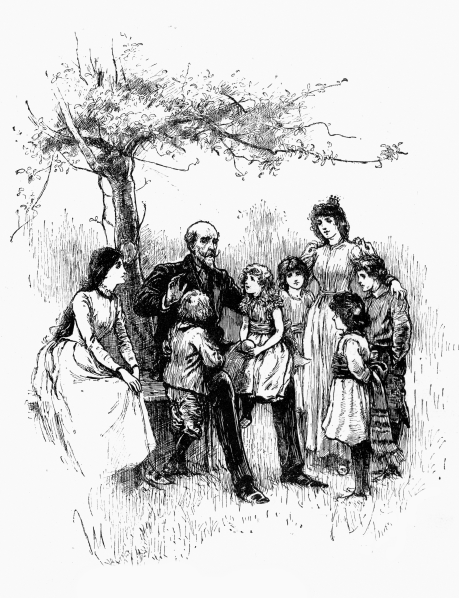 The Great Storyteller
Whence he came or lived, nobody knew. However, promptly at 2:15 pm, every Tuesday afternoon, storyteller Edmund Whittaker stepped off the train and into the world of his eager audience. He never carried or accepted a book, for all his stories lived somewhere within his mind. Not to say they were original or even his, but Edmund brought them all to life.

"Who would like to visit Neverland today?" Whittaker asked.

"Us — we do!" The children shouted.

"All children, except one, grow up. They soon know that they will grow up, and the way Wendy knew was this..." As he recited the account, all the children and teachers entered a surreal fairy tale. Beyond any story told in its natural form. Their feet and bodies lifted off the ground, at least in the listener's minds, as his words drew the listeners into Neverland with Wendy, Peter Pan, and Tinker Bell. He finished as the last foot landed, and then he was gone. Nobody ever saw him get up and leave, but he wasn't anywhere to be found.

The head schoolteacher questioned her assistant, Edith. "Do you think his stories or voice hypnotizes us?"

"I don't know Alice, but I've listened to him now going on twenty years, and he's not aged one new wrinkle or blemish."

"As a child, I snuck onto the train to follow him, but he was nowhere to be found. It was like he vanished."

"Well, we best let these youngins head home. Before their parents get worried and send out a search party," Edith said as she giggled.

The next week, Miss Alice had a birthday. All the children insisted on the story of Alice's Adventures in Wonderland. So Mister Whittaker sometimes taking recommendations obliged. "... In another moment down went Alice after it, never once considering how in the world she was to get out again. The rabbit-hole went straight on like a tunnel for some way, and then dipped suddenly down, so suddenly that Alice had not a moment to think about stopping herself before she found herself falling down a very deep well..." So down the hole, they all tumbled behind Alice and the White Rabbit. Knowing the story well, the children begged to go to the tea party and share in some laughter and tea. They all followed as Edmund lead the way, telling his version of this well-known classic to meet his audience's needs.

After the story, everyone woke up beneath the old storyteller's tree. As always, Mister Whittaker had disappeared, as had the afternoon. The teachers rushed all the children home. Then got ready to lock up the schoolhouse and leave themselves.

The children and teachers visited Winnie the Pooh. Along with some of Beatrix Potter's creatures and creations, as in Peter Rabbit and Benjamin Bunny, all the students loved bunnies. Then, one early Monday morning, a tornado touched down. It sucked up the storyteller's shade tree that had been there for hundreds of years. The next day at precisely 2:15 pm, the class ran out, but there was no Mister Whittaker but a young gentleman. He stood there with a tree, and a handwritten note that read, "With every new tree planted here is born a new storyteller."

"Howdy folks, my name is Thomas Edwards. I'm here to tell you all a story. Has anyone ever heard of the Jungle Book?"

​As time passed, everyone continued to miss and remember Edmund Whittaker. However, a piece of him carried on through Edwards' stories as he shared the grand illusion.