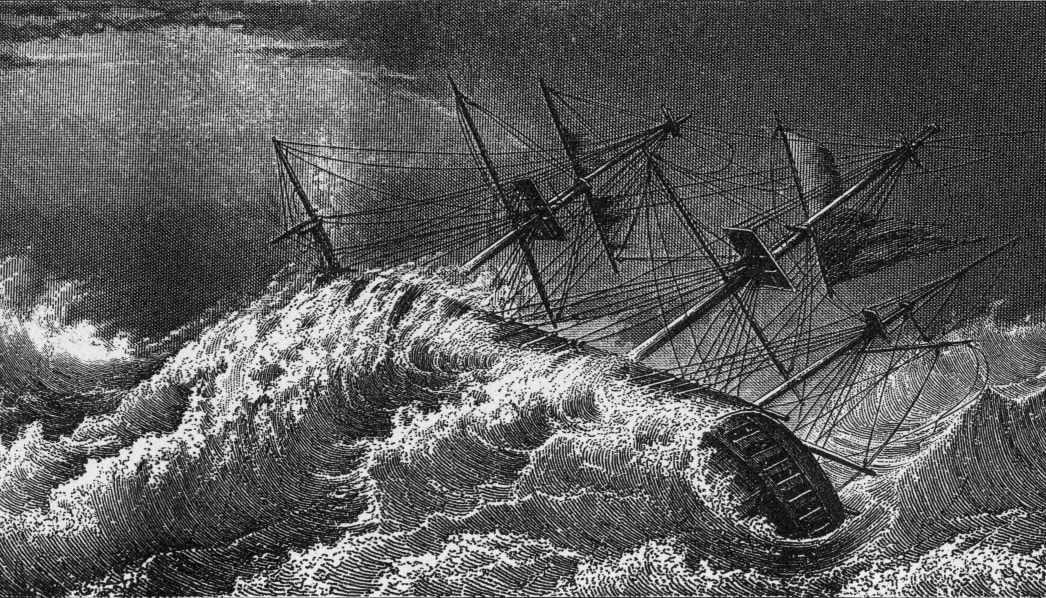 Shipwrecked
​One cold and dreary night, the waves roared and beat upon the shore. It seemed to be a remote island deserted by all modern civilizations. Under the moonlight, a young orphan girl named Emily washed up on the beach. She was chilled to the bone and shivering so hard even her teeth nearly chattered clean out of her mouth. She had disembarked into the waves from a ship wrecked and sinking a few miles offshore. Where she had been a stowaway, so no one would even know to go looking for her body amongst the wreckage. Exhausted, scared, and alone, Emily found a heated spring in an obscure cave. There she found enough warmth and protection to survive the night. The next morning she awoke to the noises of a group of people traveling, whom she first assumed were nomads.

​At first, being afraid, she followed them from afar to not be seen or heard. However, her thirst and hunger overtook her when they sang a hymn about dining with the saints and drinking from the Living Water that never goes dry. "They're not dangerous," she whispered to herself. "They are Christians."

Little by little, Emily sped up to catch them. Surprised at the sight of any outsider, especially one so boney and frail, they stopped and welcomed her as they noticed her approaching.

"Youngin, who are you, and where did you come from?"

"I'm Emily, from over yonder."

"Welcome, I'm Jonah, the congregation's pastor and elder. Somebody get this girl some vittles and water."

"Come with me. My name is Sara, and this is my husband, John, and daughter Abby. You two look about the same age. Forgive me. I'll hush now and fix you a bite to eat."

While she ate, everyone talked amongst themselves. One man said, "Where are the girl's parents or traveling companions?"

So the pastor asked Emily, "Where are those you came here with?"

"Oh, those pirates? I know not where they have come, nor gone. We were shipwrecked, and I was a stowaway."

The captain called the gentlemen of the congregation together and said, "Please hurry men and gather the women and children. I think we have gathered enough food here. We must get back to our ship before the pirates find it."

As they rowed their boats toward the ship, they looked back to see a group of raiders nearing them. A few of the younger and stronger ones had survived the frigid night clinging to the larger chunks of the shipwreck. Perhaps the fear of death gripped them for the first time as they desperately swam after the boats. A few who had found the shoreline yelled out profanity and paced the beach as they watched their comrades near the boats to see if an attack would be successful.

Just as one gripped the side of the closest rowboat, a lady grabbed an oar and whopped him in the head, all while yelling, "Sorry, pastor! I know how you hate violence."

"It's alright, my dear Francis," he comforted, then called out all the louder, "Men don't just sit there! Follow the sister's lead."
​
The waters raged that night as the tropical storms moved through. Many Christians' faith wavered in fear, but Jonah encouraged his congregation to stay calm and even cheerful. Later that night, Abby asked their new convert, Emily, if she'd be her sister as her parents wanted to take her in and raise her. Of course, she accepted with a shout and hoot of hooray. The church celebrated with a party the next day over her salvation and adoption. They all hoped and dreamed of a land where all Christians could be free.
---
1 Corinthians 15:1-4 "Moreover, brethren, I declare unto you the gospel which I preached unto you, which also ye have received, and wherein ye stand; By which also ye are saved, if ye keep in memory what I preached unto you, unless ye have believed in vain. For I delivered unto you first of all that which I also received, how that Christ died for our sins according to the scriptures; And that he was buried, and that he rose again the third day according to the scriptures:" [KJB]

John 14:6 "Jesus saith unto him, I am the way, the truth, and the life: no man cometh unto the Father, but by me." [KJB]

Isaiah 55:6 "Seek ye the LORD while he may be found, call ye upon him while he is near:" [KJB]

2 Corinthians 6:2 "(For he saith, I have heard thee in a time accepted, and in the day of salvation have I succoured thee: behold, now is the accepted time; behold, now is the day of salvation.)" [KJB]