Brush Creek
At the edge of our property is a forest with a fair size waterfall, full of sounds and life. The woods have shrunk over the years as the creek is practically unchanged. Sarah can't be too far ahead, though, because I can hear her laughing and playing with our Irish terrier.

As I head deeper into the woods towards the water, I hear my sister call out. "Benjamin, is that you? Please answer if it's you." I sense some fear in her voice.

Years ago, Indians had killed a family near here. They are all gone now, but many folks are still apprehensive.

Then Russ barked with excitement as I loudly replied. "Yes, it's me." She was waiting for us to go wading to catch some crawfish for supper.

Later, at the dinner table, mother said she had heard a bellow of war cries from the woods as a child, but no one was there. Those eerie screams have haunted her ever since. Sometimes, she sees a movement or shadow out of the corner of her eye, and the terror of that day returns.​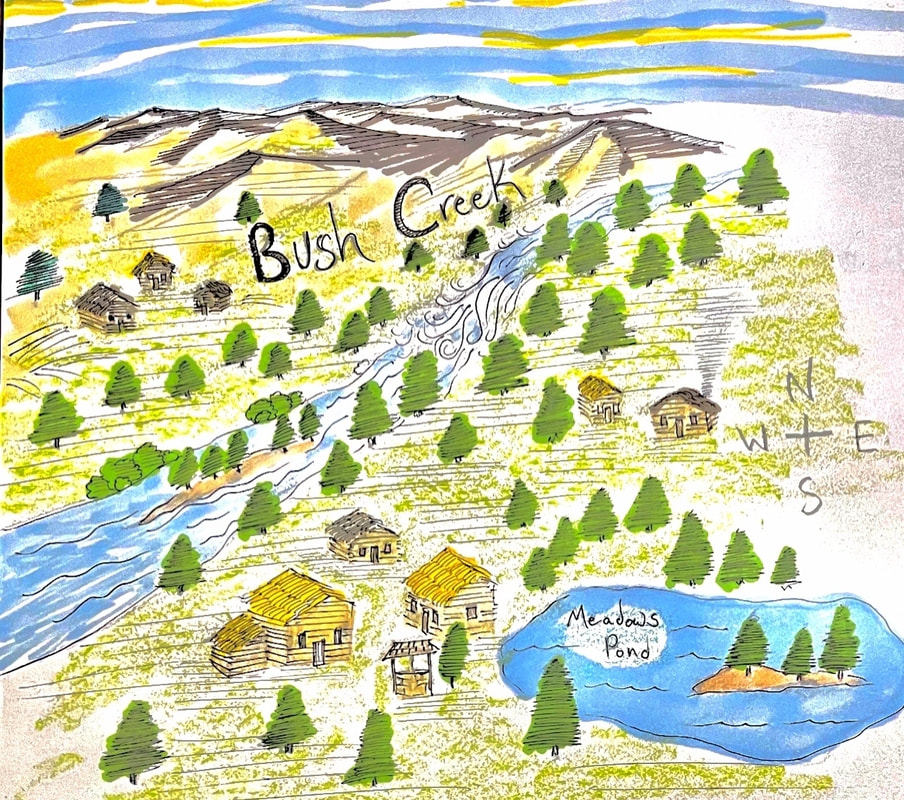 Returning Home
​
"Oh, Ma, I'm so glad Father will be back home today," Sarah said to mother. "Benjamin and I have missed him so."


With a slight glimmer of joy in her eyes, mother reached over and hugged Sarah and me and said, "I miss him too." Then Russ started barking, sitting on his tail with his front paws lifted in the air as if he had something to contribute to the conversation.
Father went alone to Jamestown to bury his brother because someone had to stay behind to harvest the corn and wheat. Our uncle Paul had caught tuberculosis. It is a disease of the lungs.
About a year ago, before Grandpa passed away, he told us, "Death has a way of separating us all; it is the closing chapter of one's life, an inevitable crusade against the living. It's in the Lord alone that one day we can all reunite."
"Our hearts are often heavy, as time can be short." Mother said, "Why don't you two children take Russ and go play in the creek till lunch time? I'll yell if your father returns early."
On Mother's advice, we headed to the waterfall, hoping to wash away our sorrows with splashes of laughter and fun.
​
Later, I heard a chuckle before spotting a glimpse of Father sneaking behind Sarah. I noticed his long-hidden smile before he launched into one of the largest water fights we'd ever experienced. It was at that point I knew we'd all be okay.
​The Lasting Chirp
"Benjamin, where did it go?"

"Sarah, be still. You'll scare him off."

"But where is he?"

"Shh, hush now. He's seated right on top of…." Then the frog chirped aloud from the mound of her hat. I laughed as she jumped up and the frog hopped with her. "You're not afraid of a Spring Peeper, now are you?"

"No," she exclaimed as she tried to compose herself. It was then she slipped on the mud, falling backward into the creek. I almost thought Sarah had twisted her ankle till she took one shoe off after the other and threw them at me.

"I hate you, Benjamin Marshall." She screamed as she teared up and laughed at the same time. "This was my new dress, too." I picked up her shoes and helped Sarah to her feet as we headed home.

"It was funny, though, from my perspective."
​
​"Everything is funny from your point of view." Then she gave me a big, wet, muddy hug as we smiled, then rushed back for supper.

Sunday's Sermon
The congregation gathered around the pastor last Sunday morning to hear him preach. Even though it was a scorching summer day, my family sat and listened so intently that not even our cool creek, shaded forests, or beautiful meadow could tempt us from our pew. The message was about Jonah's adventure in the belly of a whale. As hot as it was in church, it was an equally chilling tale of an icy ocean of troubles and sin.

After the service, father asked, "Children, what did you think of the sermon today? It wasn't like you two not to whisper or swap notes during the service." He spoke as if he were proud of us.

"The story makes me think of the book of Numbers, where the earth opened her mouth and swallowed those Jews who had sinned before Moses and God," stated Sarah.

"It reminded me of when that robber down in Louisiana got eaten by that alligator," I replied.

"Yes," Mother said, looking at us both, "the wages of sin is death." So, Sarah and I went home and confessed our sins to the Lord before we ate. Neither of us wanted to become the meal of something much bigger than us. So, from that day forward, we were more cautious not to sin. But at least Jonah lived to tell his narrative in the end.